Euro Millions Results
Friday, 23 July 2021
There was no jackpot winner of the Friday, 23 July 2021 EuroMillions Draw.
Estimated Jackpot for the next draw on Tuesday, 27 July 2021 is:
€48 MILLION
Dividends
Winners

Returns in Euro

1st Division
0
€ 38,825,769.90
2nd Division
0
€ 0.00
3rd Division
7
€ 116,054.00
4th Division
32
€ 1,497.90
5th Division
527
€ 167.50
6th Division
1,459
€ 63.90
7th Division
1,203
€ 54.50
8th Division
22,745
€ 14.40
9th Division
29,694
€ 12.30
10th Division
62,673
€ 10.80
11th Division
128,849
€ 6.40
12th Division
469,135
€ 5.50
13th Division
982,592
€ 4.20

TOTAL

1,698,916

—
---
About Euro Millions
EURO MILLIONS is a transnational lottery boasting the largest lump-sum jackpots in Europe. It combines lottery ticket revenue from thirteen participating countries - the UK, France, Austria, Belgium, Ireland, Luxembourg, Portugal, Spain, Monaco, the Isle of Man, Andorra, Liechtenstein, and Switzerland - to create a massive prize fund twice each week, on Tuesdays and Fridays.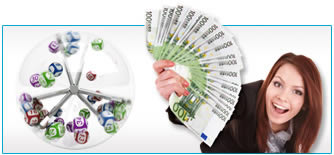 Lottery jackpots begin at €17,000,000 and can reach as high as €210,000,000 but even second division prizes can make you a Euro multi-millionaire! There are 13 ways to win, and these 13 prize divisions are pari-mutuel, which means that the prize amounts are not fixed. Prize amounts vary depending on ticket sales, the jackpot amount and the number of winners in that division.
Since Lottery is predictable to an extent according to this article, players of Euro Millions can now improve their chances of winning the jackpot mathematically.
The odds of winning the Euro Millions jackpot are 1 in 139,838,160. But the overall odds of winning a Euro Millions prize are 1 in 13 – an amazing improvement from the previous matrix. Anyone can increase the chances of winning the lottery using probability analysis.
This is how the prizes are allotted:
DIVISION
MAIN NUMBERS
LUCKY STARS
PERCENTAGE OF
PAYOUT
1
5
2

32.00 %

2
5
1

4.80 %

3
5
0

1.60 %

4
4
2

.80 %

5
4
1

.70 %

6
4
0

.70 %

7
3
2

.50 %

8
3
1

2.20 %

9
2
2

2.30 %

10
3
2

3.70 %

11
1
0

6.50 %

12
2
2

17.60%

13
2
1

18.00 %

Reserved Funds
0

8.60 %

Total

100.00 %